Focus on the Family: Producer Passing the Torch of Proven Charolais Genetics
There's a particular framed portrait in the office at Oak Hill Farm that Wayne Bennett is proud of. The portrait is of a Charolais cow named Vanessa, her sons and daughters are his pride and joy.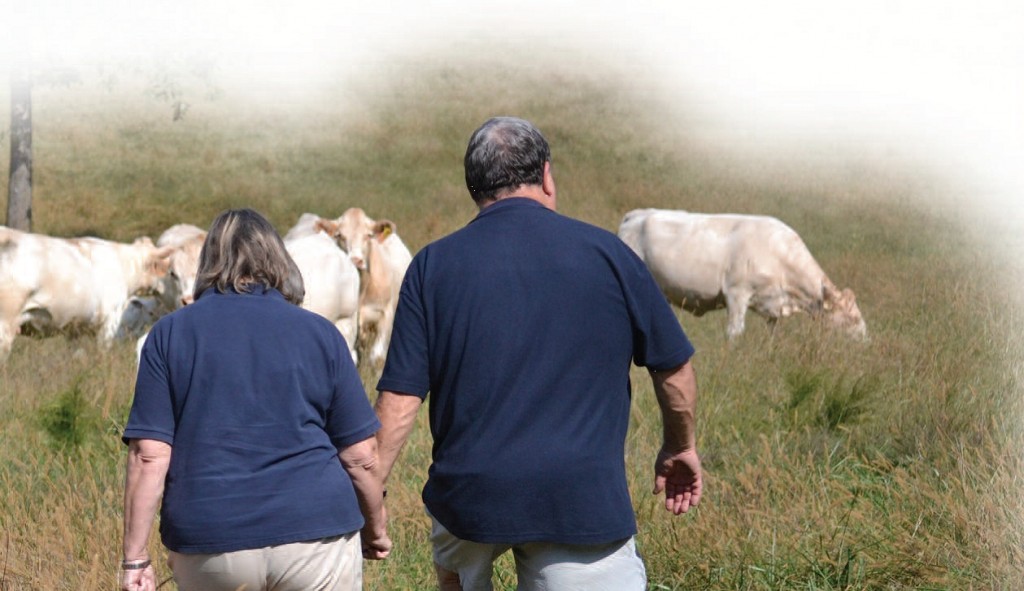 Vanessa D029 is the foundation for Bennett's motto of "Focus on the Family." It's her genetics that laid the path for not only the cattle at the farm in Dawsonville, Ga., but in many cases, the lineage for the futures of the Charolais breed itself.
"You take that particular cow, bred to the top bulls in the industry…and the offspring were phenomenal," says Stephen Cummings, owner of Bamboo Road Farms. "Once I figured that pattern out it was pretty simple. The nucleus was that particular cow."
Bennett's pride in his cattle is evident. So is his knowledge of their ancestry. He has memorized which cows won which shows, whose daughter gave birth to which bull calf and which Charolais producer purchased the offspring from which matron.
Cummings was one of the producers from around the globe who was taken in by Bennett's approach to breeding, and now the Bamboo Road Charolais line stems from Oak Hill's.
Cummings says he notices Bennett's cattle were usually the top-selling animals at the sales with "the best conformation."
"What I try to do is just raise good quality cattle that hit the ground with low birth weight and grow real fast," Bennett says.
He's no stranger to the beef cattle industry and the hard work involved in improving a breed. Bennett grew up raising Herefords. However, after talking to a friend who raised registered Charolais, he decided to see what would happen with a cross between the two.
"I bought Charolais bulls, put them on the whitefaces cows and I started getting blond whiteface," Bennett says. "I liked that and the quality of their udder and their muscling was so much better…so I bought a few Charolais cattle. The calves I got out of them were lots better than the crossed cattle I was getting, and I started raising registered Charolais."
When French Charolais were first brought into the US in the mid-20th century, calves were being born at upwards of 150 pounds. Now, thanks to genetic improvements, Bennett had calves this season that ranged from 61 to 90, pounds at birth – much more manageable for first-calf heifers to handle.
Even with the improvements the breed has made, Bennett says he continues to strive for perfection. He insists, however, that doesn't make him picky. It just makes him a better cowman.
Bennett bought a set of Charolais sisters and was later able to purchase their dam – Vanessa.
"Instead of doing everything, he'd try to keep a whole family together and sell through that family, have more longevity on knowing facts and pedigrees," says Scott Tipton, president of the Georgia-Florida Charolais Association. "You had to throw something new in there with it, but he tries to keep closer families and keep sisters together. He'd try to stay within consistent breeding instead of getting off on chaotic stuff."
Along with Vanessa, Bennett prefers to use semen from proven bulls: Sir Duke 914, Wyoming Wind 4020 and Cigar E46, for example. However, he's working to pass the torch of his breeding program onto younger bulls and see where they may take the breed.
"I'm like Bill Gates: It's time for us to let the young people take over," Bennett says. "It's your time. You're doing the right thing… I've lived my life, I've done my thing and I'm still going to enjoy it, but it's time for some young people to take over."
Bennett says he takes pride in being able to help new Charolais producers – such as Cummings – blossom in the breed. In addition, he works with local FFA and 4-H programs in north Georgia to allow students to show his cattle in the ring.
"I'm afraid we're losing our young farmers," Bennett says. "Maybe out of the five or six that do it a year, maybe one of those will stick and stay in the farming business. That's what I'm trying to encourage. A lot of them I'm sure won't do it, but a lot of them love it enough and want to stay with it."
Bennett has taught a lot about the Charolais breed to a lot of different people. He's shared his methods and passion for the breed with producers, students and consumers alike, and all took away valuable lessons.
"The main thing I learned is the cow is what makes it. If you don't have a really good cow, it doesn't matter what you breed it to," Cummings says. "You have to have families. You build your operation around families of cattle. You've got to have a nucleus. And in this case, it's D029."
He says the future is "really bright" for the Charolais breed because of the work producers such as Bennett did for the past 50 years.
"The cattle are very fertile, the rate of gain per pound of feed is phenomenal and they yield out so much red meat," Cummings says. "You usually think of the Angus as producing a very pretty meat. Cross the Charolais with them and it's a very marbled, high-end product and there's more of it."
Bennett's passing of the torch is vital in today's cattle industry, as fewer people are involved in the Charolais breed, Tipton says.
"if he doesn't give kids cows, there won't be Charolais at the shows. He's encouraging people that they'll still see the white breed. That breed would be obsolete if he didn't support he kids," he says. "It keeps the Charolais breed in the public's eye."
By: Dallas Duncan, Georgia Cattlemen's Association director of communications